Merry Christmas From Heaven©
The Merry Christmas From Heaven© bookmark contains a poem written by Katie Corbett, Sheila Schmidt's sister, who passed on to heaven June 2015. Katie was proud that her poem, written in 1997, was included in the I Cried Too© project and campaign. The poem was printed on a bookmark that was given (included with the I Cried Too© project) to the children who who lost a mom or dad on 9-11 and the soldier's children who lost a mom or dad in the U.S. Military.
Please feel free to share the poem and bookmark with your loved ones who lost someone. (Please maintain the copyright and author information on all printings.) Katie's gift of writing will touch people for many years.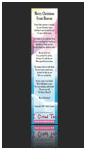 Click image to download
and then print bookmark
Merry Christmas From Heaven©
I know that someone is missing
At your Christmas feast,
And that it may be hard for you
To enjoy all the treats.
But I think if you could hear them
There is one thing they would say,
And that is, "Smile my love,
I'm with whom you celebrate today."
Do not cry for me
It is you that I'm sad for,
Because I'm with the one
Who opened heavens door.
The manger that you talk about
For me is just a touch away,
So don't be blue for me
This very special day.
In fact, rejoice even louder
When hallelujah you sing.
For I am standing right beside
The one you call
The King of Kings!!!
Merry Christmas!

Copyright 1997: Katie Corbett